This article is under construction. We ask you not to edit untill the work is done. But maybe the worker permits you to help him editing, so ask him / her.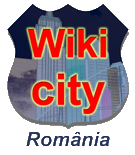 RoWikicity is a site that contains the wiki country of Adlibita.
The name comes from 'Romanian Wiki City' and was for the first time used on ro.wikipedia by Andrei Mocu.
Its logo was based on Wikistad's logo.
RoWikicity was founded on June 23 2007 by Alexandru (RWC - WS). Together with Mocu, Tigrul-alb and PetruD he started editing the Wiki from the first day.
Statistics
Edit
Administrators
Edit
See also
Edit
Ad blocker interference detected!
Wikia is a free-to-use site that makes money from advertising. We have a modified experience for viewers using ad blockers

Wikia is not accessible if you've made further modifications. Remove the custom ad blocker rule(s) and the page will load as expected.