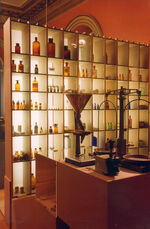 'Linto brengt voor veel mensen het echte. Zoals altijd. Onze voorzieningen zijn dingen zoals een föhn.
Met deze boodschap op het scherm zat Aesopos enigszins verbaasd confused door zijn bril te kijken. Waar is hier het begin en hoe eindigt dit?
Een hint van Pierlot en een kort bezoek aan de cyberwereld brachten al vlug soelaas...
Linto is een gloednieuwe apotheek in het Winkelcentrum Agatha van Kantstad.
Momenteel wordt nog volop gewerkt aan de inrichting en tegen eind november 2008 (misschien ook wel eerder) kan U er al uw medicijnen afhalen.
Ad blocker interference detected!
Wikia is a free-to-use site that makes money from advertising. We have a modified experience for viewers using ad blockers

Wikia is not accessible if you've made further modifications. Remove the custom ad blocker rule(s) and the page will load as expected.