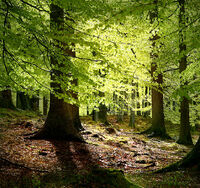 Het Lapsusbos ook wel blunderbos genoemd, bevindt zich aan de rand van Kantstad, de provinciehoofdstad van Ziltland.
Geschiedenis
Edit
Toen Aesopos de stap zette en actief ging (mee)werken aan het UWN-project, was hij zich terdege bewust van zijn onkunde en had zich dan ook voorgenomen een blunderbos aan te leggen. Er bestaat in overheidskringen zoiets als een blunderboek, maar omdat beelden zoveel meer zeggen dan woorden (aldus Wikipedia), redeneerde Aesopos dat een gestadig groeiend bos de verwoording van zijn kinderlijke onwetenheid zou benadrukken.
Naar verluid, ziet Aesopos ondertussen door de bomen het bos niet meer...
Wie schreef ook weer dat educatie een lopend onderzoek naar onze eigen onwetenheid is ?
Ad blocker interference detected!
Wikia is a free-to-use site that makes money from advertising. We have a modified experience for viewers using ad blockers

Wikia is not accessible if you've made further modifications. Remove the custom ad blocker rule(s) and the page will load as expected.