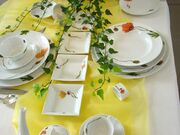 Voor al uw porselein moet U bij II zijnEdit
II is het Ziltlandse bijhuis van het gekende La Tavola in Libertas. De gloednieuwe zaak die op 14 februari 2008 werd geopend, bevindt zich in het winkelcentrum van Agatha in Kantstad, de provinciehoofdstad van Ziltland
U kan er terecht voor al uw porselein, aardewerk, gleiswerk, glas en tafelbestek.
Ruime keuze aan
Glazen
Ontbijtserviezen (6-delig en 12-delig)
Eetserviezen (6-delig en 12-delig)
Gleiswerk
Tafelbestek
Decoratieartikelen
Exclusieve verdeler van de grootste merken zoals Daum, Sergio en Infinity.
Spring is in the air
Edit
II is ook in Ziltland de exclusieve verdeler van de collecties tafellinnen van het merk Aviora dat ervoor bekend staat uitsluitend met vlas en katoen te werken.
Op vraag worden door u uitgezochte motieven op het klassieke tafellinnen geborduurd. De frisse lentekleuren die momenteel zeer in trek zijn, geven uw tafel dat kleine extraatje waar iedere gastheer (of –vrouw) trots op kan zijn en in samenwerking met het kaarsenatelier Kaarsenatelier wordt uw feesttafel nog eens extra uitgelicht.
Voor 2008 ontwierp Aviora een uitzonderlijk mooie collectie placemats uitermate geschikt voor uw zomers barbecues.
Ad blocker interference detected!
Wikia is a free-to-use site that makes money from advertising. We have a modified experience for viewers using ad blockers

Wikia is not accessible if you've made further modifications. Remove the custom ad blocker rule(s) and the page will load as expected.