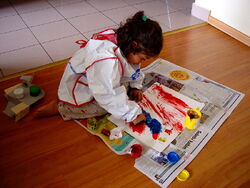 Op het gelijksvloers van het Winkelcentrum Agatha bevindt zich een unieke kinderopvang waar een jong team instaat voor de opvang van maximaal 30 kinderen (tussen 2 en 6 jaar) terwijl de ouders hun inkopen doen.
Dagelijks staat een andere activiteit op het programma: of het nu knippen, plakken, schilderen, voorlezen, of filmpjes kijken wordt, hangt volledig af van de kinderen die zèlf hun keuze mogen maken aan het begin van de dag.
Openingsuren
Edit
Maandag tot Zaterdag: 9u00 tot 19u00
Zondag: 10u00 tot 18u00
1 kinderverzorgster
1 kleuteronderwijzeres
Ad blocker interference detected!
Wikia is a free-to-use site that makes money from advertising. We have a modified experience for viewers using ad blockers

Wikia is not accessible if you've made further modifications. Remove the custom ad blocker rule(s) and the page will load as expected.