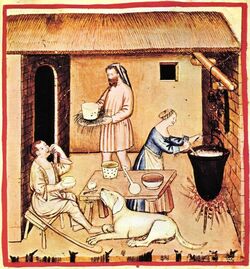 Kaashandel Cheese & Cake
Edit
Kaashandel is een kaaswinkel van de bovenste plank die op valentijnsdag 2008 zijn deuren opende in het winkelcentrum van Agatha in Kantstad, de provinciehoofdstad van Ziltland.
U kan er terecht is voor alles wat met kaas te maken heeft.
Geschiedenis
Edit
Vanwaar dan het woordje cake in zaaknaam zal U zich natuurlijk afvragen?
Omdat een overheerlijke originele cheese & cake de aanzet was een eigen zaak te beginnen, schreef de nieuwbakken eigenaar de ingrediënten op een schoolbord aan de ingang van de zaak.
Het recept ervan geeft hij graag mee.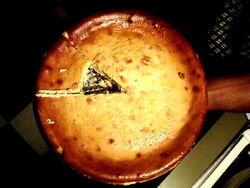 Ingediënten
Edit
200 gr. bloem
zout
250 gr. suiker
6 eieren
100 gr. roomboter
1 limoen
500 gr. magere kwark (of hangop)
200 gr. mascarpone
1 soeplepel originele planters rhum
Oscypek uit Polen
Edit
De zaakvoerder is uitermate trots op zijn nieuwste kaassoort, de Oscypek (oszczypek)[1] die een poolse, gerookte kaas is, bereid uit de melk van het gekende poolse bergschaap.
De Ziltlanderkaas
Edit
Kaas is een voedingsmiddel gemaakt van melk. Tijdens de bereiding worden de vaste stoffen in de melk (eiwitten, vetten en mineralen) gescheiden van het vocht wordt stremsel, zuursel en zout toegevoegd. Kaas bevat, naast de hoofdbestanddelen dierlijk vet en eiwit, veel calcium en vitamines A, B en D.
De Ziltlander, heeft net als de Nederlandse Goudse kaas, de vorm van een wiel, weegt ongeveer 10kg en heeft een vetgehalte van minstens 63+. De Ziltlander wordt enkel in Ziltland gemaakt. Soortnaam en vorm zijn beschermd.
Een selectief aanbod
Edit
Openingsuren
Edit
Doorlopend geopend van 7u00 tot 20u00
Gesloten op zondag en maandagvoormiddag
Ad blocker interference detected!
Wikia is a free-to-use site that makes money from advertising. We have a modified experience for viewers using ad blockers

Wikia is not accessible if you've made further modifications. Remove the custom ad blocker rule(s) and the page will load as expected.