Cetatea Latină este capitala insulei Gârnu. Este cel mai bine dezvoltat oraş din această insulă şi are cele mai multe domenii de activitate.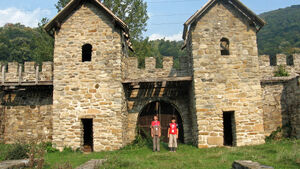 Cetatea Latină este un nume care se potriveşte acestui loc. a fost una din primele cuceriri ale Imperiului Roman care şi făcut 2 cetăti aici, una în oraşul propriu-zis şi alta în Măneşti. De-a lungul timpului, pe-aici s-au perindat mai multe popoare, dar elementele culturii latine au rămas fundament pentru acest oraş. De altfel, în mijlocul oraşului au mai rămas câteva ruine a celui ce a fost Colovissum, oraşul roman.
Geografie
Edit
Hartă simplă
Edit
Ad blocker interference detected!
Wikia is a free-to-use site that makes money from advertising. We have a modified experience for viewers using ad blockers

Wikia is not accessible if you've made further modifications. Remove the custom ad blocker rule(s) and the page will load as expected.